Are you someone who is tired of seeing eboys everywhere and wants to become one? Well, the first thing is to get an eboy haircut. 
You may have seen eboys with aesthetic clothing on TikTok and Instagram getting all the girls. This makes you wanna become one too, right? 
To do so, we recommend you start with an eboy haircut. 
In this article, we will talk about what the eboy aesthetic is, where it comes from and how to get an eboy haircut.
Before we go on telling you about the eboy haircut, it's better for you to first know what the eboy aesthetic is. 
What is an eBoy?
An eboy is typically a teenager (could be in his early twenties, too) who is famous with other aesthetic boys and girls on the internet mainly, Twitch, Instagram, and TikTok. 
If we talk about their clothing, they wear baggy clothing with aesthetic hoodies. These hoodies are mostly of the 90s aesthetics. They also look hipster and rock the emo aesthetic wearing dark gray or black nails. 
Most of the boys today who surf the internet and use social media apps are now inclined towards having an eboy look as it makes them look young, sharp, aesthetic and somehow, diverse. 
To rock this look, they want to get an eboy haircut. Now, the good thing is that getting this haircut is easy. But to do so, we first need to understand what an eboy haircut is which brings us to to:
What is an eBoy Haircut?
Eboy Haircut is rocked by aesthetic teenagers on social media and they are getting a lot of attention from their followers lately. 
Eboy haircut, also known as the curtain hairstyle, has a hairstyle that has long hair that goes to your ears. 
To get this hairstyle, you first need to grow your hair out. Now, there are two ways you can style your hair into an eboy haircut.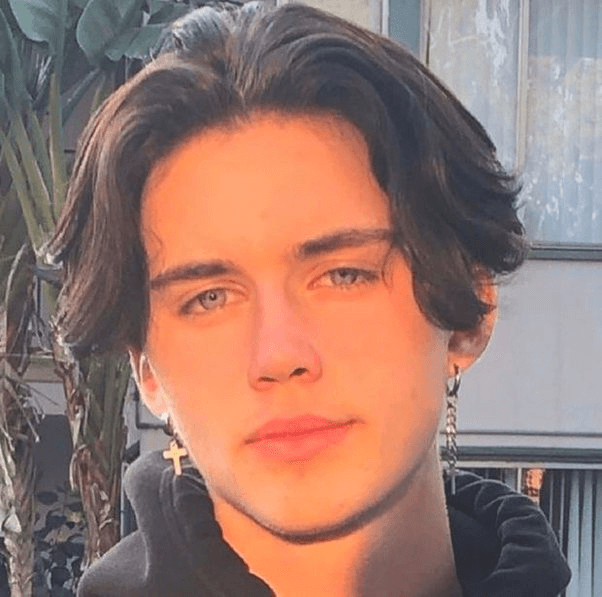 Straight (Traditional) eBoy Haircut
If we talk about the 90s aesthetics, this haircut used to be of straight hair which was separated from the middle making curtain bangs from either side of the face. 
For that, you needed a sharp, sleek haircut which had your hair go right around your ears.
Messy eBoy Haircut
The modern version of eboy is rather flexible. With more and more hair types there are, getting an eboy haircut has become quite easy now.
No matter your hair type, you can rock a modern eboy look by getting your hair look more textured, uneven (since it is supposed to be messy), and part the hair from the middle shaping curtains from both sides. 
How to Get a eBoy Haircut?
If you've decided to get yourself an eboy look, the first thing on the list is to get an eboy haircut. But how do you do that? What to tell your barber?
Before going to your barber, grow your hair out. Then, tell them to give you a straight haircut and cut your hair from the sides so that it makes curtains that go round your ears from both sides. 
Also Read: Is Dassana Zendejas a Product of Nepotism
If you have straight hair, ask them to give you a cheek length as your hair will give a sleek, face-framing effect. With curly hair, it is better to go with long curtain bangs because cheek length on curly hair might look too messy.  
Now that you've grown out your hair and had an eboy haircut, now is the time to give yourself the final look which brings us to
How to Style the eBoy Haircut?
There are many types of hair types and lengths but for this particular aesthetic, you've got the long curtain bangs, right?
To style this haircut with long curtain bangs, it is rather easy to get the desired look of an eboy.
There are several methods of styling an eboy haircut and the best ones are described below. 
The Fast Way? Hair Gel
With hair gel, you can easily style your curtain bangs into a proper eboy look. Get a little amount of hair gel into your palm, and push your hair backwards by applying the product throughout the length of your hair. 
This way, you push your curtain bangs away from your face, rocking a wet look. Make sure not to overuse the product.
Curly Hair?
To rock the eboy hairstyle with curly hair, hair mousse is your go-to product. The goal is to make your curly hair into as straight as possible so that you can get the eboy look. To do so, get your hair damp and apply a little hair mousse throughout the length of your hair. 
Also Read: How tall is Arnold Schwarzenegger: Revealing the truth
Also Read: Nikki Majors: Facts You Don't Know About Her
Right after applying the product, blow-dry your hair in a way that it makes your hair dry and straighter. This will result in a bouncy, sleek curtained eboy style. 
Make sure to use a diffuser with the blow-dryer to get the most accurate and wanted results. 
To have a more wet and messy look, pomade is preferred. This one is the easiest to get provided you have messy (or even straight) hair. 
All you have to do is to get a little amount of product on your hand, and apply it throughout your dry hair and slowly form the layers. 
Flat Iron to Straighten your Hair
You can use a flat iron to straighten your hair if you don't want to style your curly hair into an eboy cut. 
To do so, you need to apply some heat protectant into your hair (obv so that your hair isn't heat damaged), and flat iron your hair to get a sleek, straight hair look. 
We know that to get the traditional 90s eboy look, straight hair is the way.  
How to Take Care of Your eBoy Haircut?
This goes without saying, right? You worked hard to give yourself this look so why not take care of it? But how to take care of your hair? 
Taking care of your eboy cut is like taking care of any haircut out there. The key is proper maintenance and looking after. 
We have compiled a brief list of tips that you can follow to get your eboy cut for as long as you want. 
Use a Good Shampoo
Choose a shampoo that works best with your hair. Do not use mass produced brands as they will be jack of all trades and master of none. Identify your hair type and get the shampoo that works best for your hair. We recommend washing your hair twice a week. (but still, people living in tropical climates can increase the number to three)
Get Rid of Split Ends
Now this is a bad one. Split ends can cause your hair to look frizzy and rough. This look will make you unattractive and overworked. Avoid this at all costs. Split ends are usually common in people with thick hair. 
To avoid getting split ends, we recommend you use a good quality shampoo along with a nourishing conditioner. There are some of most common reasons people get split ends
Blow-drying your hair too much

Using low-quality, or too much hair products

Poor diet can also cause damage to your hair

Dehydration (also affects skin)

Vitamin deficiency
You can always go see a health professional if your hair is getting too damaged. 
Maintaining Your eBoy Haircut
Now that you've got your desired haircut and you're taking care of the overall health of your hair too, how cute. But, there is one thing still missing from your checklist and that is maintaining your eboy haircut. 
You can maintain your haircut by focusing on the big things first. What can the big things be?
Visit your Barber Regularly
We know that for every hairstyle, maintenance is something we can't overlook. Getting a haircut of your choice is one thing, but maintaining it is another. 
There are many ways your barber can help you get your desired look. The cut we defined in this article can be worked through many ways. 
The barber will analyze your hair type, head and face shape and decide what kind of length will look good on you. 
Also Read: Kerri Browitt Caviezel – Popularly Known as the Wife of Jim Caviezel
You might want an undercut but your barber might not give you that and guess what? Always listen to your barber. They know their stuff. 
In case of an eboy haircut, your barber will maintain the length of your curtain bangs so that they are exactly how they are supposed to look.  
Your barber might give you a fade or an undercut to diversify the look of your eboy cut. This way, you can maintain the look of your eboy cut without overgrowing your hair. 
Comb your Hair Dry and Wet
There are some of us whose hair does not fall in place. We hate that. To make our hair fall exactly where we want them to, we need to comb them daily. We need to make a proper routine in which we comb our hair into the hairstyle we want so that they take that shape naturally. 
What we want to do is to comb the hair when they're wet. Applying a product is not recommended as we want the hair to fall into the hairstyle naturally.   
The Best eBoy Haircuts You Can Rock
We're not the only ones who wanna rock the eboy aesthetics. There are many celebrities that are rocking this hairstyle. From Timothee Chalamet to Johnny Depp, all have a long curtain hair look. And we want that!
Fulfilling the demand, below we have covered the best eboy looks you can get in 2022.  
The Asian eBoy Cut
Almost all of us have come across an Asian eboy whether it is TikTok or Instagram.  No? Well, you might have heard of the famous K-pop band BTS. All of the BTS members have a eBoy haircut which proves that the Asian have kind of invented this aesthetic. 
If you're Asian or have the thick, fine consistency like Asians do, you can easily rock this aesthetic by getting long curtain bangs and combining them from the middle to your ears. 
Depending on the shape of your face, you can either comb your hair from the middle, or you can choose a side. Dye your hair with a little gradient and you're good to go with the Asian eBoy aesthetic.
Rock the Curtain bangs with Curly Hair
You can easily rock the eboy haircut by getting long, sleek curtain bangs but getting them with curly hair is not easy. 
To get this aesthetic with curly hair, the go-to approach is to go with the messy hair eboy style. This way, you can enhance and embrace the rich texture your curly hair offers and rock your curls. You can do that by having not-so-long curls and getting a slight fade. 
Long Curtain Bangs
This classic and go-to eboy haircut is the most desired and easiest to get (if you have fine, long hair). It got its peak in the 90s and it's catching attention again. 
This haircut looks great with long and medium hair length. You can see Timothee Chalamet rocking this hairstyle with long hair.
To get this haircut, simply grow your hair out and get long curtain bangs. It's that simple. 
Wavy eBoy Haircut
The key to getting this hairstyle is to get a messy look. With people having messy, curly to wavy hair types, this hairstyle will work its magic on their look.
To get this hairstyle, simply get a haircut like you would to have a curtain bang style, and put some sea salt spray to get the wavy, messy look.  
After the hair is dry, it will compliment your final look by giving you a messy, curly, and texture-rich hairstyle. 
Just make sure to prevent your hair from getting too greasy or rough as it will ruin the look.
The Undercut
To give your eboy cut a more sleek and defined look, get yourself a fade. You can get faded sides and back of your head to achieve this look. 
Do know that this cut will require maintenance from time to time. 
Dyed Hair eBoy Cut
If you want to go further with your long curtain bang eboy hairstyle, you can dye your hair to give yourself a confidence boost. 
Dyeing your hair will make you look stylish and enhance your overall eboy look. 
Just like before, we've compiled a list of most frequently asked questions by our community. And we have all your answers. 
Frequently Asked Questions
eBoy haircuts are hot right now and we know that you guys have concerts about this haircut. So, let's head to the most frequently asked questions about eboy haircuts. 
What is the eboy haircut called?
The eBoy haircut is also known as long curtain bangs haircut. If you're having a tough time telling your barber to give you an eboy haircut, tell them to give you a long curtain bangs haircut and they'll know what you want. 
How do I ask for a eboy haircut?
You can tell your barber to give you a haircut with long curtain bangs. Simply, ask them to cut your hair in a way that it is long and go round your ears. 
What is the TikTok boy haircut called?
The TikTok boy haircut is called Mop Top. In this hairstyle, you have long hair on top and short (faded or undercut) by your ears and back of your head. It is kinda like a simple undercut but not always.
How do you get eboy curly hair?
To get eboy curly hair, get an eboy haircut first. If you have fine hair, use a shampoo or conditioner to wash your hair and try to use a blow-dryer or flat iron to curl your hair. Do know that for permanent curly hair, it'll take time. You can also use sea salt spray to give your hair a wavy texture.