Shoulder bags for women; honestly, we don't know where to start talking. These bags aren't just bags. They are a status symbol, a necessity in your wardrobe. Men don't know the struggles of having small pockets and looking for a bag that has adequate space for storage while looking flawless. Let's face it, women always have so many items to carry that the pockets are insufficient, which is why bags and purses were invented in the first place. Latest shoulder bags for ladies are a necessity and become a part of your clothing whether you are a student, a professional lady, a stay-at-home parent, or want to attend a party.
Shoulder bags, which are spacious enough to carry all of your important items, crossbody bags for when you just want to carry around a small, lightweight bag, and clutch bags, which are great for pairing with evening dresses for parties, are some of the most popular different types of handbags in Pakistan. Here are five of the most popular types of women's purses and Classic Shoulder Bag that every woman should be familiar with and possess at least one of. In this article, we will talk about different types of shoulder bags from different brands in Pakistan. This will help you tremendously when buying your next shoulder bag online.
Best Shoulder Bags in Pakistan For Women
Animal Textured Shoulder Bag
Limelight knows what they are doing when making these lovely bags. This brand is known for its high-quality women's wear and this reflects in their shoulder bags. Shoulder bags have always been a popular accessory among both men and women. They have evolved over time as a result of various fashion trends and sectors, but they remain an unlimited choice for any lady and even guy.
Basic Shoulder Bag has long been a must-have fashion item for any woman. They are the epitome of refined women and men, and everyone aspires to be like them. When it comes to finishing any appearance, the fashion industry constantly looks to accessories, and what is a face without a bag? It's one of the most difficult decisions to make because there are so many different types of bags on the market. Animal Textured shoulder bags are the most stylish and practical option for any lady. The emphasis on rational decision-making might be attributable to a variety of factors.
Shoulder Tote Bag
Sapphire is a great brand for all sorts of Pakistani clothing. Their handbag collection is great, however, it's rather expensive when compared to Limelight. Nonetheless, it's nothing to be overlooked when buying your handbags online.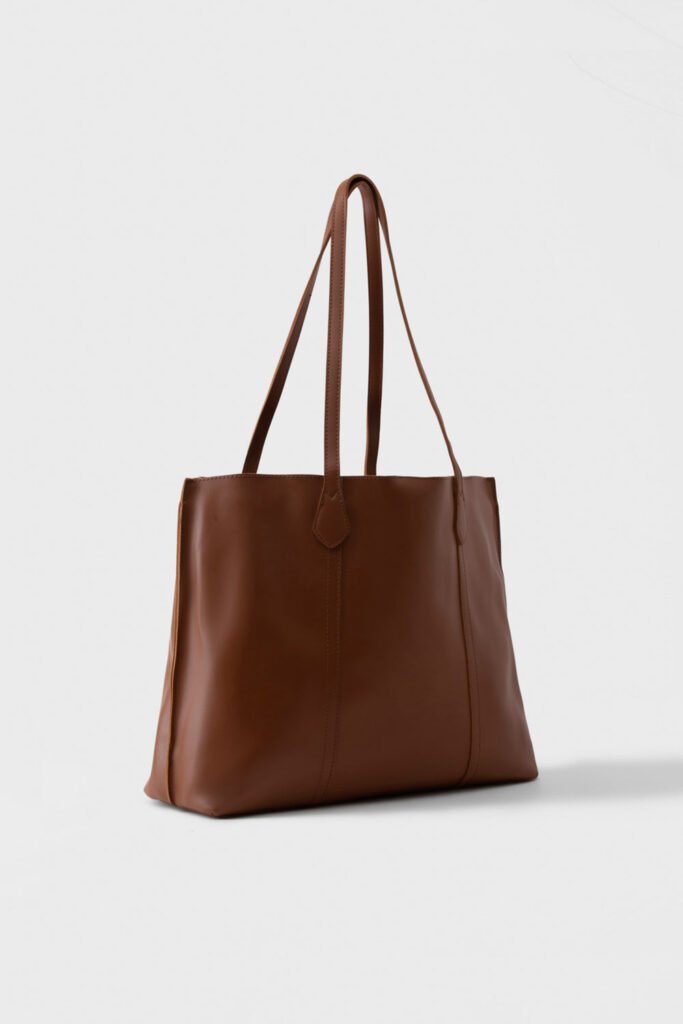 Every lady needs a dependable tote bag with plenty of storage capacity that is also really pleasant to carry. A tote bag is different from a Buckled Shoulder Bag is a large, unfastened bag with two parallel shoulder straps on either side, for those who don't know. It's a great bag to have on hand for any situation that requires you to carry more than a few items, whether you're going shopping, to a class, or to work. This is, without a doubt, the most basic necessary bag that any lady should own. It has all of the features you'd expect from a standard handbag, including zipped pockets, compartments, and a closure mechanism.
Yellow Barrel Bag with Chain
Gul Ahmed is a veteran in the Pakistani fashion industry. Without a doubt, it's one of the most well-known brands in Pakistan. Their branded bags for ladies are full of different types of handbags and we are sure there is one just for you.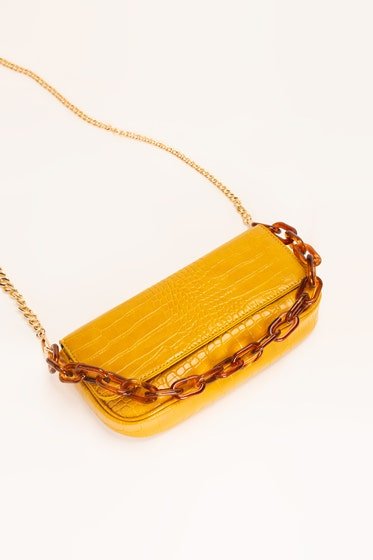 This bag is generally medium to small in size and comes in the cylindrical shape of a barrel, as the name indicates. Shorter shoulder straps, a top zipper clasp, and enough capacity inside characterize barrel bags. Depending on the design you choose, the bag may be dressed up or down. With these latest bags for ladies 2022, you'll be ready to hit the road. For a weekend excursion, there's enough room for all of your clothing. An internal compartment for valuables or vital papers, such as passports, and an outside pocket for your phone are also included. With the fancy chain, you can easily carry this bag. To locate a bag that fits your style make sure you go through their whole collection.
Metallic Buckle Bag
It's very hard to not include Limelight in these popular bags 2022 list more than once. Their bags are just that good that they need more recognition. Buckle Bags are inspired by the shape of envelopes and come in a variety of styles, including the simple single front flap clutch with a magnetic closing at the tip. Other varieties include the traditional Buckle Bag with four flaps, as well as a style variation with two triangular flaps opposite each other. The magnetic closure is frequently seen at the tip. In certain circumstances, there is also an interior zipper closing. These quality shoulder bags are perfect for a casual night out and if you are a social butterfly then this bag is perfect for you.