Multiple clothing trends hit your wardrobes in summer, but only a few last for long.
Indian scorching heat is sometimes so unbearable that it causes uncomfortability in all types of outfits. 
We cannot reduce the heat or provide you with weather or season alternates. But trying out best, we can help you adapt to the conditions by providing the best and ideal clothing options.
Therefore, it was not easy to check and find an outfit that would help you with good looks and help combat Indian heat, all while ensuring a complete comfortability factor.
With Summers just about to end, the one long-lasting trend for the season that hit everyone's wardrobe is the Sleeveless T-Shirt. This not only provided heat beating solutions, instead helped you with the best fashionable and stylish looks as well.
After conducting thorough research on Sleeveless T-shirts, we have identified some reasons for-
Why You Should Opt for Sleeveless T-Shirts
!
 Let's introduce you to the Essentials-
1.
Fit- 
 We often get mistaken by considering that fit for sleeveless tees is not essential or of much concern. But the reality is that a good or bad fit in this category can make or destroy the whole charm of your outfit. 
 We often prefer loose options in the category, ending up ordering a larger size than usual.
 Instead, always opt for the usual size that is relaxing and comfortable for you.
2.
Material:
The next thing that we often don't prioritize in online shopping is fabric composition. This must be your first preference while shortlisting an option. 
Material for your outfit needs to be soft, lightweight and breathable. Cotton is, therefore, a reliable and ideal option for the same.
3.
Colours: 
No one wants to bear additional torture from tacky clothes in the afflicting heat. Therefore, try to avoid wearing blinding or bright colours and too darker shades as well. Opt for a hybrid option, preferably the pastel shades or grayscale tones. 
Fortunately, addressing all these needs, we have an ideal option for Sleeveless Men's T-Shirts.
The 6 Best Sleeveless T-shirt Styles to Buy This Year 2021?
After thoroughly exploring all the available options for this category, we have compiled the list for the Best 6 Sleeveless T-Shirts that were a hit for the season and to which you must not miss out.
1. Boys Olive Green Solid Round Neck Sleeveless Vest Sports T-shirt on Myntra:
Suppose you are looking out for affordable options in this category. In that case, this stylish yet subtle sleeveless T-Shirt from CHIMPRALA available on Myntra is a great investment for your wardrobe.
The layered round neck detail gives this a proper t-shirt look that can also be carried out for casual outings. Moreover, you can also style it as an undergarment over a white plain shirt.
2. Abrams Citron Cotton Tank Top on MensXP:
To all those who want to keep it casual, this Pastel-Coloured Tank Top on MensXP is the answer to your search.
Designed with a small front pocket, this can even be a hit for your gym and workout closet as well. Crafted in 100% cotton fabric, the tank will feel light and soft on your skin, providing it with a royal feel.
3. Plain Mustard Sleeveless T-Shirt by Feranoid:
From multiple options for sleeveless tees available out there, this is Plain Mustard Sleeveless T-Shirt from Feranoid the most favourite of all. The reason is the perfect summer light shade and low arm cut holes.
Pair this with a printed half-sleeved shirt and black trousers to be office-ready with a fashion-forward ensemble.
4. ROYALEWAY Men Vest: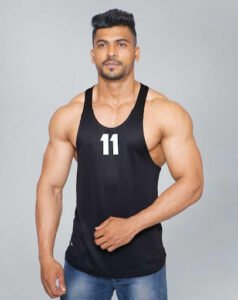 Gym Freaks often search for an option to show off their toned and shapely muscles. Flaunt your body with ROYALEWAY Men Vest on Flipkart, designed with deep arm-cuts and neck. 
The small raw details on the fabric will help you with a modest feel, absorbing sweat and allowing easy breathability scope to the skin.  
5. Graphic Print Crew-Neck T-shirt
Graphic Prints are a hit for the season, and Ajio presents you with the best option of Graphic Print Crew-Neck T-shirts. With easy pairing options, style this for multiple occasions to be the highlight.
Pair it with denim shorts to get an ideal day party look and club it with a white overshirt for the semi-formal appearances.
6. Plain Black Sleeveless T-Shirt by Feranoid:
Talking about this subtle piece, this plain black sleeve plain black sleeveless t shirt by Feranoid is an ideal addition to your wardrobe. Black's elegance paired with sleeveless comfort, designed with 100% cotton fabric and available at the most affordable price range- do we need any other reason to shop for the same!
Add this in your cart right now to explore multiple discounts offers and coupon codes to get the best price for the option.
How to Pair a Sleeveless T-Shirt?
The best part of this category is that it comes with easy styling options. Sleeveless tee can easily be styled for a casual day out event, for night parties and even for semi-formal appearances as well.
 Pair your sleeveless t-shirt with denim or cotton shorts, high top sneakers or casual slippers, a funky watch and a cap (optional). This will help you stand out as a party highlight, grabbing everyone's attention.
 Styling sleeveless tee with a funky or formal shirt with rolled-up sleeves or pairing it as an undergarment under the blazer and further adorning the look with semi-formal shoes and a formal watch. Get this look to hit the dance floors fashionably. 
 Believe it or not, comfortable clothes result in increased productivity. Pair your sleeveless t-shirt under a floral or patterned shirt, completing the aura with sneakers and a casual watch, adding a comfortable yet effortless look to your daily lookbook. 
Conclusion:
Sleeveless T-shirts are undoubtedly the most effortless styling option that everyone must add to their wardrobe. Easy pairing for multiple occasions, various looks from a single outfit, effortlessly slaying options, and the best affordable price range!
What are you still waiting for!